presented by the New Zealand Sport Fishing Council – LegaSea
Introduction
The New Zealand Sport Fishing Council has an experienced fisheries management, science, policy and legal team.
The Council has proudly and determinedly represented our recreational fishing and environmental interests for 60 years.
We strive to present cogent arguments and develop policies with the objective of ensuring the management measures and controls applying in our fisheries are designed and implemented to achieve the Purpose and Principles of the Fisheries Act 1996.
Restoring abundance in our inshore fisheries has been a particular focus for the Council.
Due to the extensive, nationwide interest of our 55 clubs the Council submits on a range of issues and proposals. Given these broad interests our team also engages in a variety of processes that impact on the marine environment.
The Council uses LegaSea to publicise this ongoing work and generate public awareness of the important issues.

LegaSea provides public-friendly information so you can understand the complex issues and threats facing our recreational and environmental fishing interests.
What follows is a summary of submissions made in 2017. More will be added during the year. Latest documents are at the top of the list.
Click on the right hand image to go to the page with more info.
---
Submission. National Fisheries Plan HMS. 4 August 2017
A submission by the New Zealand Sport Fishing Council supporting profitable commercial tuna fisheries, maintaining world class game fisheries for recreational interests and taking a broader environmental approach to managing fish stocks, especially small, forage species and impacts of fishing on seabirds.
---
Submission. Kaikoura closure and selected inshore stocks. 7 July 2017
A submission by the New Zealand Sport Fishing Council supporting the full closure of shellfish and seaweed fisheries along the Kaikoura and Cape Campbell coastlines under section 11 of the Fisheries Act. Also, the NZSFC supports a range of options for the future management of Bluenose, Gurnard 7, Red Cod 2, Paua 3 and 7. Effective measures need to be put in place to rebuild depleted Bluenose stocks.
---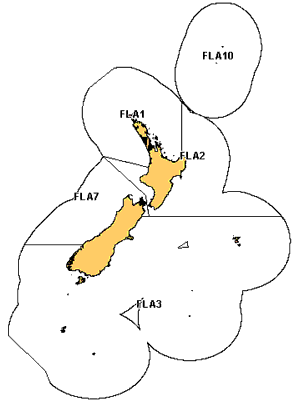 Submission. Red Cod 2 & Flatfish 3. 14 June 2017
A submission by the New Zealand Sport Fishing Council objecting to the proposed in-season increase in the total allowable catch (TAC) for Red Cod 2 and Flatfish 3. These are low knowledge stocks that need precautionary management as required by the Ministry for Primary Industries' own Harvest Strategy Standard. As the Supreme Court ruled, fisheries must be managed to 'ensure sustainability'. These proposals do not meet that test.
---
Submission. Temporary closure of Scallop 7 (SCA 7). 31 May 2017
A submission by the New Zealand Sport Fishing Council supporting the Ministry's proposal to close all of SCA 7 and Port Underwood to commercial and recreational scallop fishing for the 2017-18 season. This option was supported because it is the most likely to ensure the survival of the stock and minimise the risk of further decline.
---
Submission. Selected Crayfish stocks, CRA 3, 4 & 7. 10 February 2017
A submission by recreational fishing interests advocating for more precautionary management of our crayfish stocks so they can rebuild to abundant levels. More careful management will help restore the marine ecosystem, and abundance will provide for current and future generation's needs.
---
Submission. Kaikoura closure. 31 January 2017
A NZ Sport Fishing Council submission recommending the Minister extends the emergency closure to the maximum term allowed under section 16(3) of the Fisheries Act 1996, emergency closure regulations. The closure means no harvesting is allowed of paua, other shellfish, and seaweeds. Crayfish and scampi are excluded from these measures. The closure has since been approved and will be in place until 20th November 2017.