NZSFC Nationals 2021 sponsored by First Mortgage Trust

Click here for the current provisional results during Nationals this week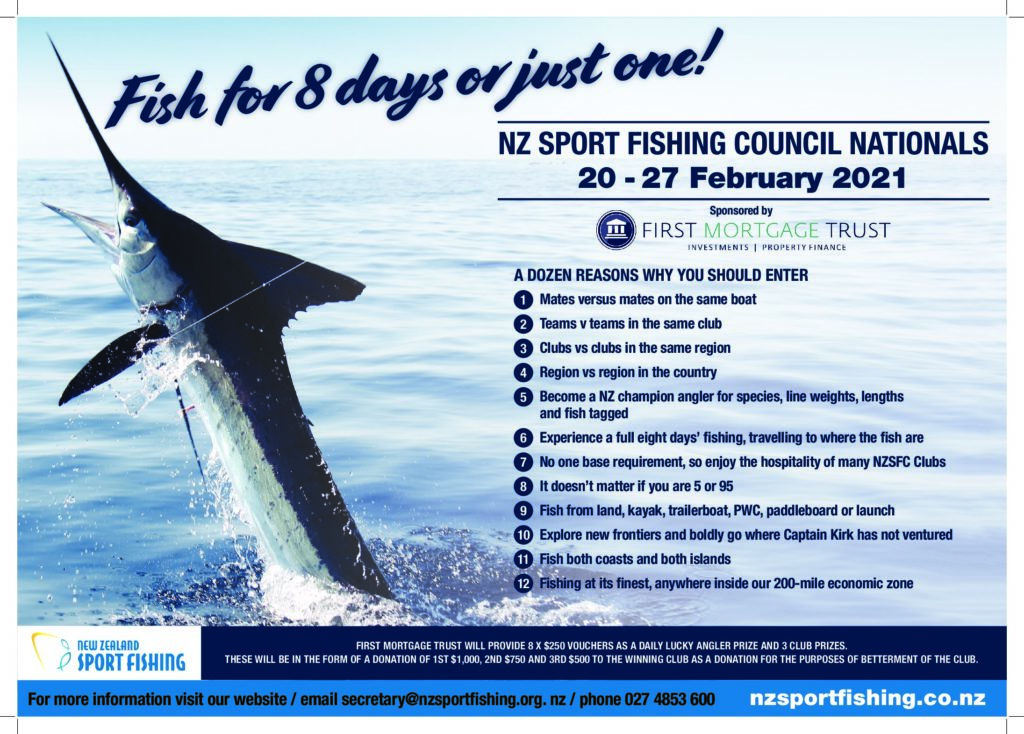 2021 New Zealand Sport Fishing Council Nationals will run from the 20th of February 2021 to the 27th of February 2021. Entry fee is $25.00.
Fish anywhere in New Zealand. NZ Championship awards at stake. Anglers must be a member of an affiliated fishing club.
Click here for the 2021 Nationals Rules
Click here for the 2021 Nationals entry form
We also have an on line registration form for our recorders to use. If you are an individual angler / team please do not use this form and go through your club recorder as payment is required prior to registration.
Click here to use the on-line recorders entry form – this is a much faster option for recorders.
Click here for Nationals Poster for 2021. This can be used at your club to advertise the tournament. It can be printed in A3 or A4.

First Mortgage Trust will provide 8 x $250 vouchers as a daily lucky angler prize and 3 club prizes. These will be in the form of a donation of 1st $1,000, 2nd $750 and 3rd $500 to the winning club as a donation for the purposes of betterment of the club.
For more information contact your club, Helen at secretary@nzsportfishing.org.nz or www.nzsportfishing.co.nz
Time: 0800 hours
Start Date: 21 February 2021
End Date and time: 27 February 2021 @ 1600hrs