Taupo Fishing Club Inc
We are located at AC Baths Ave Taupo (opposite ACBaths).
Our club room is open every Friday from 5.30pm to approx 8pm. We welcome members from other clubs and guests. If you are interested in joining the club come along and meet us.
Originally, known as the Taupo Fly Fishing Club. Keen fly- fishermen of the Taupo area, had the idea of forming a club. This was in the early 1970's and the club would meet on a Friday night in the back bar of the Lake Hotel to discuss fishing and swap stories over a beer.
In 1975, the Taupo Fly Fishing Club, was officially formed, with Keith Draper as President and Budge Hintz as Patron. Early members of the club, including Budge Hintz, Keith Draper, John Parsons, Gary Kemsley and Peter Gould, have written books on fly tying and fishing in the Taupo area, which will still be of great help to anyone interested in trout fishing and new to the area.
Over a period of time and using various watering holes, it was decided that the club needed its own club rooms for meetings and Friday evening get-togethers. Plus all the important things that go with a club, like trophies, books, photographs and of course, the bar!
In 1982, members made a decision to build the present club rooms on the AC reserve. After a huge effort of working bees, sourcing donated materials and scrounging for whatever was needed, the club building was finally completed in 1983 and was officially opened by the Minister of Internal Affairs, Mr Talbot on 24th April, 1983. This very important date for those interested in trout fishing, was the 100th anniversary of the introduction of Rainbow trout, to New Zealand.
At the annual general meeting in 1990, members voted overwhelmingly, to change the club to the Taupo Fishing Club. This was in order to have a wider appeal to all those fisherpersons who enjoy both trout and sea fishing. The club for many years has had a representative on the Lake Taupo Advisory Board and a Big- Game Fishing Council representative.
A fishing contest, run by the Taupo Fishing Club, is held every year. This contest which started in 2002 is open to members and non members alike. The 2022 event, was the twentieth year of this very successful, family orientated, Taupo fishing contest.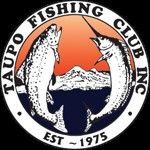 Contact Us