Waikato Sport Fishing Club
The Club is based in clubrooms located in Grantham Street, Hamilton, overlooking the Waikato River and adjacent to one of the city's boat ramps and is available for hire. Monthly meetings are held as social events and to give members the chance to meet and pry secrets from outside experts. Prior to these meetings a 'magazine' is posted to members to help keep them informed of upcoming events, club issues and members' antics.
Membership is currently around 240. Members indulging in a diverse range of sport fishing interests: hard-core marlin hunters, successful light tackle tacticians and bottom-bouncing boaties.
We have weigh stations at the Raglan Club, Raglan (Call Joe Johnson for details), Fish City, Hamilton (7 days per week during business hours) and also an afterhours weigh station at the home of Warren Swetman, see our website for contact details.
Key activities on our calendar include the
Shelley Beach Family Tournament – Shelley Beach Coromandel
Fish City Family Fishing Tournament – Fish anywhere you want over 2 days
The Simrad Raglan One Base
The Big 4 Tournament – fish anywhere you want over 3 days
contact: secretary@waikatosportfishing.co.nz
Visit our new Website for more information about our club.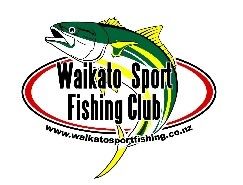 Contact: Grant Sneddon
Address: P.O. Box 9036
City: Hamilton 3240
Phone: 027 289 4068
Contact Us