Whakatane Sportfishing Club
The Whakatane Sportfishing Club Inc is located on the main wharf in Muriwai Drive beside the Whakatane river. Established in 1966 because of the prime game fishing grounds where Yellowfin Tuna soon became the target for many anglers. Whakatane, New Zealand is well respected worldwide as a popular Sportfishing destination.
It offers a combination of plentiful snapper, terakihi, trevally … (to name a few) complemented by Yellowfin Tuna, Marlin (Striped, Blues & Blacks) and world record Yellowtail (Kingfish) with Mako sharks growing to record breaking sizes, that contributes to the regions popularity.
The Whakatane Sportfishing Club Inc is home to New Zealand's largest Tuna Tournament held annually in late January not to mention a host of other competitions warranting a mention in every fishing enthusiast's diary.
Club premises are a short walk from town. Ideally placed for off-shore visitors in need of necessities before crossing again to sea and the bounty it contains. Fishing is keenly supported by local retailers stocking the latest fishing equipment and offering invaluable local knowledge. Facilities include a magnificent bar, lounge, upstairs viewing deck and bar, plus showers and the la carte restaurant which is open daily for fine lunches and evening dining at its best.
The completely new and modern building is constructed in timeless Rimu carried over from the previous old building. Inside, an extensive array of fish mount's and fishing memorabilia is on display.
Charter boat operators offer diving and fishing opportunities second to none, including day trips or extended charters to New Zealand's only active marine volcano, White Island (home to world record Yellowtail) dolphin watching and guided tours are 'world class'.
The club is open from 11am till late, 7 days. ( Closed only on Xmas day) New members, day members and NZSFC affiliates all welcome. For more information please contact us or enquire with your local charter skipper.
Other important Details
Skippers Restaurant: (07) 307 1573
Website: www.wsfc.co.nz
P.O. Box 105
Whakatane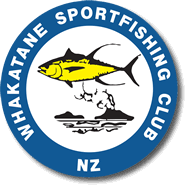 Contact Us