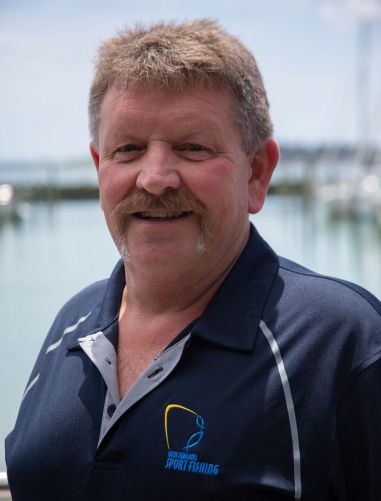 Dear Members and Supporters
This is the end of my fourth and final year as President and I take this opportunity to thank all of those who have helped and guided me through these years. I won't start naming names as I am bound to miss someone out. There are a large number of you and you know who you are, Thank You all.
This has been a very busy year and one out of the books for the council as well in regards Roz retiring. This lead to the huge task of finding someone to take over the role which was never going to be an easy task. Needless to say that this took priority over most things as this role is the core of council functions. The role has also changed considerably with the Board requiring a lot more from the new appointee and also preferred to be Auckland based as this would make a lot of tasks easier being centrally located. Dave Lockwood has stepped into the role at a very busy time, not only does he have to learn all of the core roles involved in the day to day running of the council, he has the AGM , Year Book and then the Nationals all requiring his attention as soon as he steps up to the plate. With Phil Appleyard our new President being based in Auckland along with Dave this should make the transition a bit easier. I would like to ask all members and clubs to bear with us through this transition period as we are bound to make a few mistakes whilst trying to replicate Roz's 30 years of experience.
It has become quite clear that the NZSFC is the only large active organisation making worthy contributions to the management of our recreational fisheries. We can only claim the mandate of our 32000 members and our LegaSea supporters, but are indirectly representing a large group of recreational fishers. We have other organisations that want to align and support us on fisheries related matters. How can we give them a sense of belonging and carry their mandate into the future within our structure without compromising our value proposition? A question that has been asked before that we still need an answer to, and need to keep working on. The review of the fisheries act may be the time we need to count on these organisations and their mandate pending the outcome of the review. The outcome of this is a total unknown and the brief that the Ministry has to work with, also an unknown.
HTK
Mark and Chrissy de Lacy aka Mrs and Mr Minstrel have had a very busy and successful year visiting schools throughout the country and have plenty of forward bookings. Last year we were told we should be nominating the HTK show for the Water Safety NZ awards which we did and I am pleased to tell you that The HTK show received the WSNZ supreme award, great job Mark and Chrissy.
Dave Lockwood is also in the process of a grant application for $12,500.00 from the Four Winds Foundation to stage shows at low decile schools in Auckland and the plan is to apply for more funding for low decile schools throughout the country.
We have also had initial discussions with Coastguard NZ about how we could get them involved with HTK.
LegaSea
The LegaSea team have had a very busy year developing LegaSea legends and works packages and attending the Hutch Wilco Boat show and will be manning a stand at the Auckland Boat Show on the Water while we are in the process of conducting our AGM.
The LegaSea team put their hands up to raise the funding needed to finance the Southwick report on the Economic value of recreational fishing. This project is vitally important to recreational fishing and possibly could change the way the resource is viewed in the future as has been the case in several countries overseas.
Well done to all the LegaSea team.
NZMRF
As per my last report the NZMRF was in the process of scoping out and contacting Southwick and associates for the Value of recreational fishing. The program is now well underway with a report to be given of progress so far at the AGM. The NZMRF and LegaSea have spent mays hours on the project to date. Well done to Jeff Romeril' and the NZMRF team.
Simrad Nationals
This year's Nationals was again very successful with a record number of entries. Roz and her Nationals committee did a sterling job once again and spent many hours collating results and getting the daily and final results out in a timely manner. Thank you all team. Simrad secured naming rights to last year's Nationals and sponsored $20,000.00 worth of product that was drawn each day. Congratulations to all Nationals winners and all who were lucky enough to win a Simrad product. A big thank you to Simrad. We are still in negotiations with Simrad about this year's Nationals sponsorship. Please support our sponsors when and if you can.
Records officer
A big thank you to Pete Saul once again. Pete has had a busy year processing all record claims and will continue to be our records officer for the coming year. Pete has also been made an NZ IGFA representative, well done Pete on your appointment.
Member benefits
Club Marine and Go Fuel (Petroleum Logistics) are slowly but surely making some headway but not as well as we would like. Some people have saved themselves quite a bit by checking out the Club Marine deals and have also had rebates back to their clubs. Check it out next time your insurance is due you never know until you check. The fuel card rebates are slowly increasing and there is still work being done on this.
There will be reports on these at the AGM.
Dave Lockwood will be spending time on Marketing and Promotion as he grows with his new role.
Business Plan
This is progressing slowly in some areas and doing really well in others. This is due to time availability as some of us have been committed to other functions such as appointing a new Executive Officer and the transition from Roz to Dave in this role. Also Alistair and Natasha have had work commitments that have had to for fill. I would like to thank Alistair and Natasha for all of their voluntary time they have committed so far.
On a brighter note Bob Gutsell and his communications team have been doing some great work and have now produced their 3rd E-zine Hooked up. This production is getting better with each publication and is truly a professional informative magazine. Well done Bob. I would have liked the business plan to be a bit more advanced for Phil when he takes over but circumstances have not allowed this.
Fisheries Management
Once again this has been a big year for the team and next year has the possibility to be even bigger with the announcement from Nathan Guy that the Fisheries Act will be reviewed. We are looking at a moving target here and not really sure what to expect. Peter Campbell will present a Fisheries Management report and we will also have Dave Turner from MPI to speak about the review.
Congratulations
John Chibnall has been made a Life Member of IGFA. Congratulations John, a just reward for your many years of service to recreational fishing.
John had informed the Board he will be standing down as Life Member and IGFA Board representative at the upcoming AGM. I would like to thank John for his 47 years of service to the NZSFC, formally the NZBGC. John has served us well over these years and has made huge contributions to the council and recreational fishing. All your work is much appreciated. John will remain the Patron of NZSFC.
Thank you to our sponsors and supporters.
We now have a huge number of sponsors and supporters of which there are too many to list here. We will make sure we have a full sponsor list available on the website please check this out and give them your support when requiring goods or services.
The Coming year
The coming year as I see it will be focused on keeping the ship on an even keel. Finances will be tight this year and we have a bit of unknown ahead of us. Phil and I will be working closely with Dave throughout the year, mainly on operational matters such as Year book, Nationals, and all other day to day operational requirements while Dave is getting settled in the new position. I am sure there will be lots of things that crop up that Roz would just automatically attend too that most of us don't know happens.
The value of fishing survey will take up a huge amount of time and there is lots of outside funding still to be found. This is probably one of the most important projects the Council has entered into for some years and it has the potential to be a game changer. Coupled with the Ministry review announcement, will leave us with plenty to do.
I would hope that the latter half of the year sees Dave involved in promotion and marketing of the Council, member benefits, grant applications, website development, new member opportunities and building relationships with other organisations. Some of this is already happening, but we need to make sure we take care of the nuts and bolts of the Council first.
I wish Phil all the best as incoming President and I am sure you will all give him the same level of support you have given me.
Safe Fishing and tight Lines.
I look forward to seeing you all in Christchurch
Mark Connor
President
New Zealand Sport Fishing Council