New Zealand Marine Research Foundation
Our marine environment is integral to New Zealand's culture, however snapper, kahawai, crayfish and many other popular species have declined over the last thirty years.
The New Zealand Marine Research Foundation is a registered charitable trust established to fund marine research projects that will benefit the community. Through high-quality research, we will be better equipped to balance the demands of recreational, customary and commercial fishing and successfully rebuild our fisheries.
Click here to go to New Zealand Marine Research Foundation webpage
Mission
The New Zealand Marine Research Foundation's mission is to sponsor research on aquatic plants and animals and the physical marine environment for the benefit of all New Zealanders, including participants in ocean recreation. Research on interactions between people and marine ecosystems, including fisheries will be undertaken in partnership with national and international participants in marine recreation, marine research and fisheries.
To achieve this mission the Board of Trustees will allocate resources to research projects in consultation with a scientific advisory committee
The goals of the New Zealand Marine Research Foundation:
Increase knowledge of the biology and applied biology of marine life.
Increase understanding of marine ecology and ocean ecosystems.
Improve the understanding of the social and economic values of marine resources and ocean recreation.
Foster a communicative and collaborative approach to marine research with other research funding agencies.
Communicate project results and other relevant scientific and technical information to research organisations and the wider community.
The Foundation will consider research in any of the above areas which contributes to its mission.
Valuing the Economy of Recreational Fishing
Recreational fishing in New Zealand is a billion dollar industry which supports over 8,100 jobs and generates 188 million dollars in tax revenues. Click here to read the report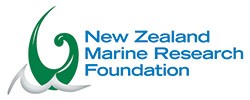 Our logo is based on the Hei Matau, the Maori fishing hook, a symbol of prosperity, abundance, good health, power, authority and respect for the sea and the life in it. It also represents good luck and safe journey and safety while traveling over water.