Finfish bag limits review 2021
DECISION: APPROVED
Introduction
On 6 October 2021 Fisheries New Zealand (FNZ) advised they were reviewing recreational daily bag limits for finfish. Bag limits are set under the Fisheries (Amateur Fishing) Regulations 2013.
Submissions were due by 18 November. A decision was made on 20 April 2022, with regulatory changes to take effect from May 2022.
During October and November the New Zealand Sport Fishing Council and LegaSea worked with the New Zealand Angling & Casting Association and the New Zealand Underwater Association to develop a joint response to the proposal. The submission was sent to FNZ on 22 November.
Proposal
Fisheries New Zealand has proposed the following: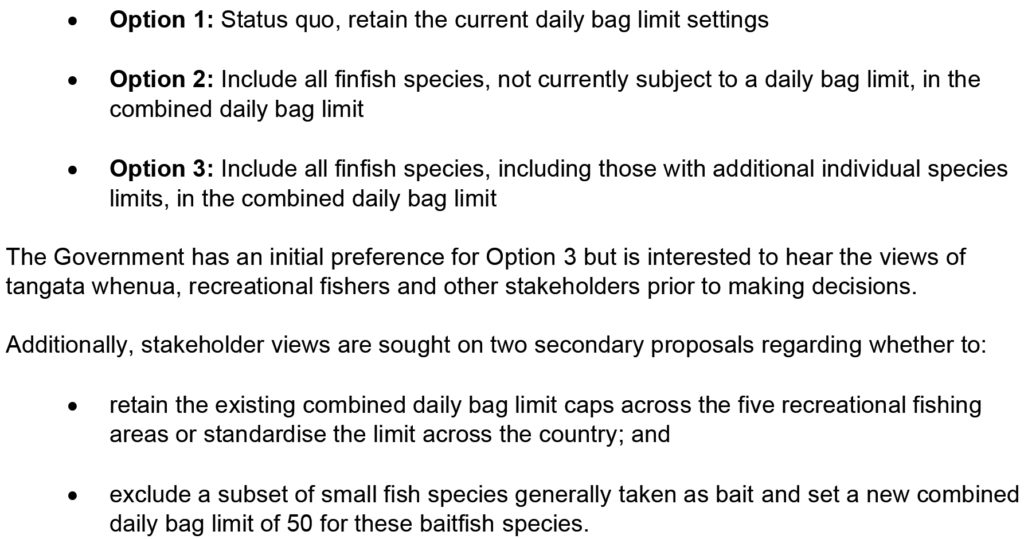 Submission
Our joint submission made eight recommendations to the Minister. The Minister for Oceans and Fisheries is David Parker.
We consider the Minister needs to apply a tandem response – tighten the restrictions on recreational harvest of vulnerable reef fish, and ban the sale of reef fish species.
We also submitted in support of the Minister confirming the bag limit of 1 per person, per day, for southern bluefin tuna under the Fisheries (Amateur Fishing) Regulations 2013.
Relevant information
2022
Minister's decision
Daily bag limits Guide
2021
Submission
Documents
Fisheries NZ
Research