Aotea Great Barrier Temporary Closure 2023
DECISION: PENDING
Introduction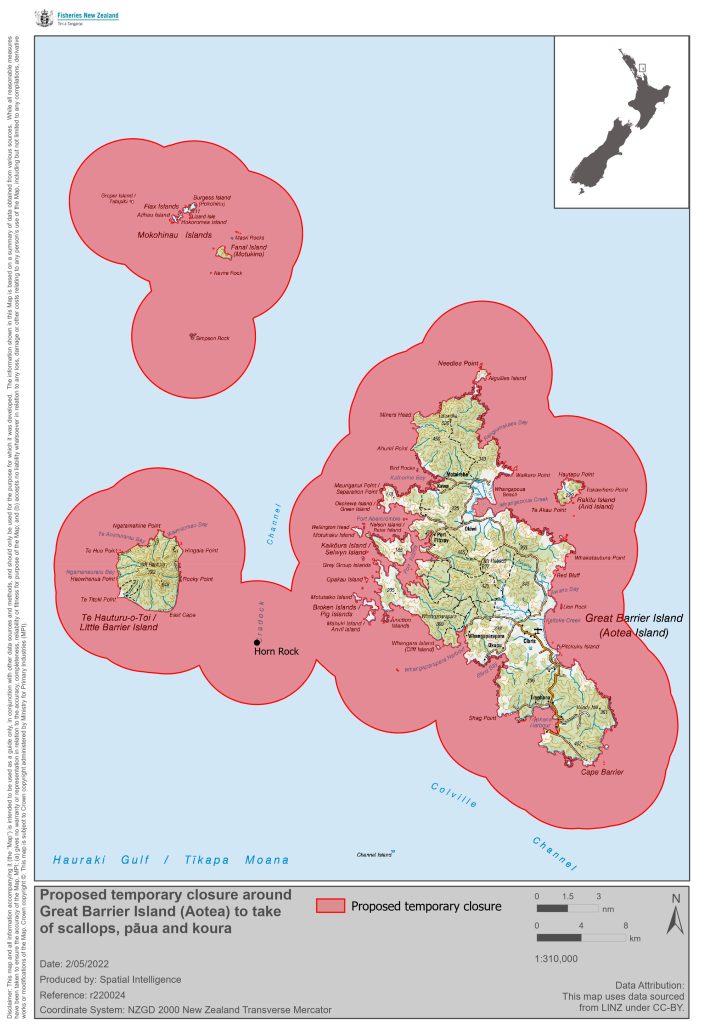 On 6 July 2023 Fisheries New Zealand advised the Motairehe Marae Trust had requested a temporary closure to the harvest of scallops, pāua and crayfish from waters within 3 nautical miles of Aotea Great Barrier, Te Hauturu-o-Toi Little Barrier, the Mokohinau Islands, Simpson and Horn Rocks.
The proposed closure is for 2 years. This is to give support to the rāhui already in place. The application is made under section 186A of the Fisheries Act. The application has the support of the Iwi Trust Board Ngāti Rehua Ngātiwai ki Aotea.
Submissions were due with Fisheries New Zealand by 21 August 2023.
Submission
The New Zealand Sport Fishing Council, LegaSea and New Zealand Angling & Casting Association collaborated on developing a submission in response to this request. On 21 August we submitted against the application on the basis that a closure of this size would displace fishing effort into neighbouring waters with no reduction in catch limits. The closure would not address the fundamental issues causing the depletion, which is a broken Quota Management System and poor governance. These issues need to be dealt with.
We respect mana whenua and the local community for taking action, particularly when officials have ignored the impacts of depletion on the Aotea community.
Relevant information
2023
Submission
Aotea s186A temporary closure. Recreational. 21 Aug 2023
Submission opposing the s186A application due to displacement of fishing effort into surrounding waters. The impacts of fishing, catch limits and the QMS needs to be reformed. NZSFC, LegaSea, NZ Angling & Casting Association. 21 August 2023.
READ NOW >
2022
Proposal
Aotea Temporary Closure Application. Motairehe. 2022
Request for a 2-year temporary closure under s186A of the Fisheries Act to support the rāhui around Aotea Great Barrier and other islands in the Hauraki Gulf. The closure would apply to crayfish, pāua and scallops, out to 3 nautical miles of the shoreline. Motairehe Marae Trust Board. 2022.
READ NOW >
Aotea s186A temporary closure map. FNZ. 2 May 2022
Proposed 2-year section 186A temporary closure around Great Barrier Island (Aotea), Little Barrier, Horn and Simpson Rocks. Closure to apply to the harvest of scallops, pāua and crayfish. FNZ. 2 May 2022.
READ NOW >